Test-bashing may be fashionable but two new polls show considerable support for testing by teachers, students and the public, writes Jill Barshay in Hechinger's Education By The Numbers.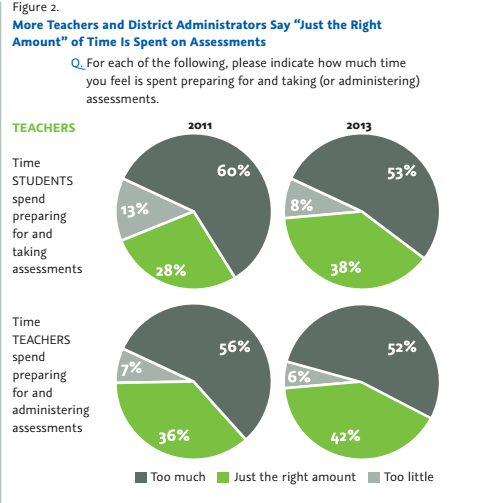 Graduation exams are backed by 77 percent of teachers and 86 percent of the public, according to Teachers versus the Public. "Accountability is one of the issues where the public and teachers agree," said author Paul Peterson, a Harvard education professor. (Here's more on the book.)
Ninety-four percent of students agree that tests are important for understanding what they are learning, according to a survey by Northwest Evaluation Association, a non-profit test designer.
In 2011, 60 percent of teachers said too much time was spent on test prep and test taking. In 2013, only 53 percent of teachers thought too much student time was devoted to testing.
"Formative assessment is shown to have the most positive impact on teaching and learning, yet it's least understood and not widely practiced," concludes the report. Only 29 percent of teachers correctly identified a definition of formative assessment. (Checking for understanding in order to modify teaching.) Most could not identify summative or diagnostic assessment either.