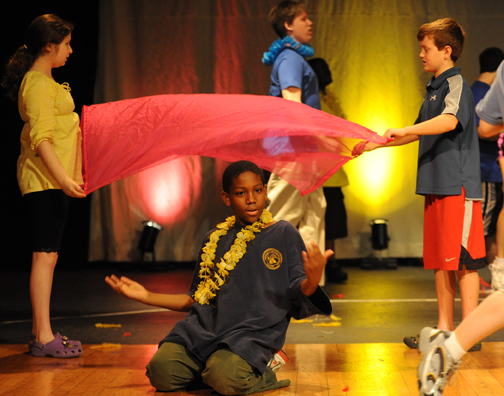 Children with autism perform at Vanderbilt's SENSE Theatre.
Acting can teach social skills to students with autistim, writes Laura McKenna in The Atlantic.
How do you join a conversation at a middle-school lunch table? What do you say when someone says hi to you in the hallway and you don't know her name? How do you delicately correct a member of your lab group in science without calling him stupid?

. . . A set of subtle and complicated social skills is embedded into the entire school experience, from the lunchroom to the classroom.
Drama classes can help autistic students improve their ability to interact with others, concludes a new Vanderbilt study.
Blythe Corbett, an associate professor of psychiatry at Vanderbilt, teaches drama exercises such as role playing and improvisation to children with high-functioning autism in her SENSE Theatre program.
Drama participants are better able to recognize faces, understand others' perspectives and regulate anxiety, compared to a control group, she found.
Researchers at the University of Kent found that children with autism could recognize more facial expressions after they participated in a drama program. Children who participated in the Social Competence Intervention Program, another drama-based intervention, improved their ability to play cooperatively, share, speak with respect, communicate while smiling, and say appropriate pleasantries, like please and thank you.
MarbleJam Kids, an after-school group in River Edge, New Jersey, provides art, music, and movement therapy to about 120 kids on the autistic spectrum. Founder Anna Villa-Bager wanted a program for her daughter.
Children can role-play responses to social dilemmas, writes McKenna, whose son is a MarbleJam kid. "Improvisation exercises are also useful because so many autistic kids otherwise rely on 'scripts' to navigate social situations."
Teaching autistic kids to act like everyone else is controversial, reports Shira Polan in ScienceLine. While Corbett values social competence, Maria Hodermarska, a drama therapist at NYU, doesn't think autistic people need social skills to improve their lives.
"At NYU, we focus on social justice, instead of addressing these deficits in functioning," says Hodermarksa, whose son acts in Rule Breaking: Disability as Performance. "Drama therapy gives people who are marginalized a voice, a platform, a place to be seen and heard."
Some of McKenna's readers think students with autism should be allowed to pursue their interests rather than being pushed into drama classes.
My nephew, who's on the spectrum, did a summer theater program in middle school by his own choice. He had no talent, but liked hanging out with theater kids. He tried to get into drama in high school, but didn't get through the auditions.