Eric Garner's death — and a grand jury decision not to indict the police officer who choked him – is a call to action for some New York City high school students, reports WNYC.
"This can happen to any one of us," said Christine Rodriguez, a 17-year-old senior at the Bushwick School for Social Justice. "I live in Bushwick, and on every block I see police cars. I worry about my friends, my peers, my family, strangers."
Seventeen-year-old Malik James, who attends the Urban Assembly School for Law and Justice in Brooklyn, is part of a youth leadership group that looks into policy issues.
"As a young black male who's part of the demographic of those affected," he said he felt "something between anger and desperation." His coping method was research.

James has been scouring the Internet to understand the facts of the Garner case, looking for some sensible explanation for the grand jury's decision. He's hoping to figure out "what is it that I don't know, what is it that I still don't understand about the case, why he cannot get an indictment." So far, he has determined that the system offers too many protections to police officers and that prosecutors are too closely tied to the police department.
Democracy Prep Charter High in Harlem stresses citizenship. Students told WNYC their parents had given them "the talk" about how to deal with the police.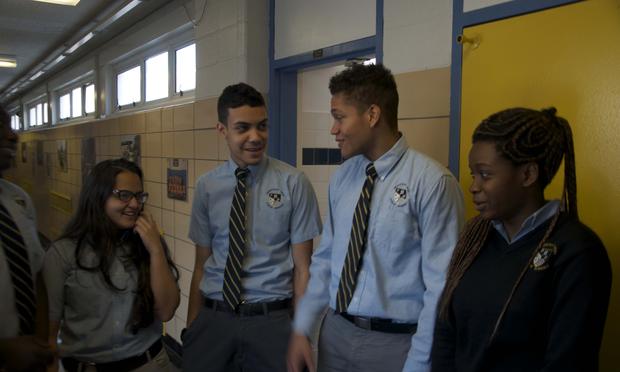 Eleventh grader Jeff Agyapong said his mother warned him not to challenge the police.
"When police approach you, no matter what, don't say anything, follow their directions no matter what because your parents will come down to the precinct and everything will get straightened out peacefully," he said. "The contradiction in the black society is 'should I stand up for myself because I know I didn't do anything wrong?' or 'should I follow what everyone wants me to do?'"
"I don't think black communities should be teaching their black boys to be afraid of cops," Jaylene Paula said. "If we're passive in these cases, then this passivity is going to encourage what happened in Ferguson and what happened in Staten Island."
The parents of 16-year-old Anthony Ayba said, "They just think right now you need to be safe, don't worry about your rights, just make sure you're alive."