The more students use computers, the lower their achievement, according to a report from the OECD.
Students in OECD countries and in Russia, averaged two hours a day online in 2012, with 25 minutes of that time was at school, writes Leonid Bershidsky on Bloomberg View.
"The use of computers for schoolwork has increased, especially in Western countries," but fewer students are using computers at school in Japan, China and South Korea, Bershidsky writes.
In countries where students often use online chats for schoolwork, the decline was sharp. They "may be missing out on other more effective learning activities," the report suggests.
And less computer use in class doesn't mean kids aren't comfortable with technology: According to the report, Korean and Singaporean students are better than anyone else at Internet navigation because they are "already proficient in higher-order thinking and reasoning processes in other domains."

The study's results are not clear-cut, however. Australian kids are good at online reading, and Danish and Norwegian schoolchildren score high in math, defying the negative relationships charted in the report.
Not surprisingly, teachers' ability to use technology well makes a difference.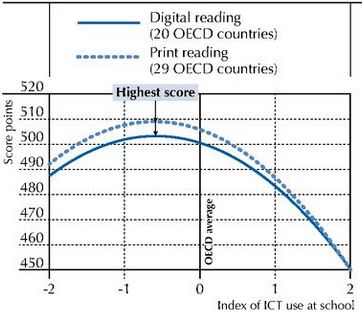 "The best readers . . . tend to be those who use computers slightly less than average," notes Roberto Ferdman on Washington Post's Wonkblog.
Beyond that point, students who spend more time online do worse in reading. That's even true of those who use computers to practice and drill.
In addition to crowding out other activities, such as reading, "computers might also be killing more helpful paths of thought and discovery," Ferdman writes.
"Students are cutting and pasting answers instead of finding them," said Andreas Schleicher, who is the director of education at the OECD and lead author of the study. "In most countries, the current use of technology is already past the point of optimal use in schools," he said. "We're at a point where computers are actually hurting learning."