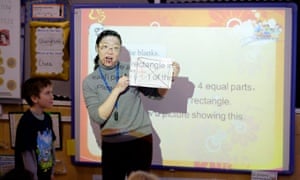 Lianjie Lu, from Shanghai, teaches fractions to year 3 pupils at a London school. Photo: Frantzesco Kangaris/Guardian
Britain has imported math teachers from high-scoring Shanghai to demonstrate teaching techniques, reports The Guardian.  
Lilianjie Lu stands in front of 21 seven and eight-year-olds in a London classroom, struggling slightly with her English but with a winning smile on her face, as she attempts to teach them all about fractions.

The classroom has been reconfigured to resemble a Shanghai classroom. The carpet has been taken up, desks which are normally clustered in friendly groups are in straight rows, and all eyes are on Lu and her touchscreen.

. . . The class is repetitive, going over and over similar territory, stretching the children slightly further as the lesson progresses, picking up on mistakes and making sure that everyone is keeping up.
British teachers move more quickly, says Ben McMullen, deputy head at Fox school and senior lead in the local maths hub. Chinese teachers "dwell on it for what seems a long time so every single child understands exactly what's going on."
Lu is now asking the children what a fraction is. "If the whole is divided in to three equal parts, each part is a third of the whole," one child explains. The other children follow suit, repeating and adapting their answer to explain the fraction written on the board.

"There's a lot of chanting and recitation which to our English ears seems a bit formulaic," says McMullen, "but it's a way of embedding that understanding."
McMullen spent two weeks observing at a Shanghai primary school in September. Math lessons are shorter there, but better, he says. "I saw better maths teaching in 35 minutes than I had ever done in an hour and ten minutes."
In Shanghai every child of the same age is on the same page of the same text book at the same time.

. . . Children have mastered their jiujiu (times tables) back to front and inside out by the time they are eight. Classrooms are bare and text books are basic, minimal, "not that appealing" to look at, admits McMullen, but of exceptionally high quality and thoroughly researched.
Lu studied math teaching for five years at a university and teaches only math at her Shanghai elementary school. In Britain, primary teachers teach all subjects and have little training in how to teach math.