Nikole Hannah-Jones' black working-class parents sent her to the best — and whitest — school in town, thanks to an integration plan. Her husband, an Army brat, got an integrated education in military schools.
As educated and middle-class parents in a black but gentrifying Brooklyn neighborhood, they struggled with choosing a school in a segregated city, writes Hannah-Jones in New York Times Magazine.
An education writer, she wanted to send her daughter to public school. All the local schools serve low-income black and Latino kids and have low test scores.
"I didn't know any of our middle-class neighbors, black or white, who sent their children to one of these schools," she writes. "They had managed to secure seats in the more diverse and economically advantaged magnet schools or gifted-and-talented programs outside our area, or opted to pay hefty tuition to progressive but largely white private institutions."
Not wanting her daughter to be one of a handful of black students at a predominantly white school, she rolled the dice on a segregated school, P.S. 307, with a great principal and strong funding. Most students come from the housing project across the street.
But she worries the school will gentrify. Neighboring P.S. 8, serving well-to-do whites, is overcrowded while P.S. 307 has plenty of room. If the boundaries are shifted — over vociferous objections from P.S. 8 parents — will their daughter's school become dominated by affluent white families?
Alexander Russo wonders how many other people in "educationland" have chosen a heavily minority public school for their own kids. So far, he's got Ben Speicher and Eva Moskowitz, both charter school leaders.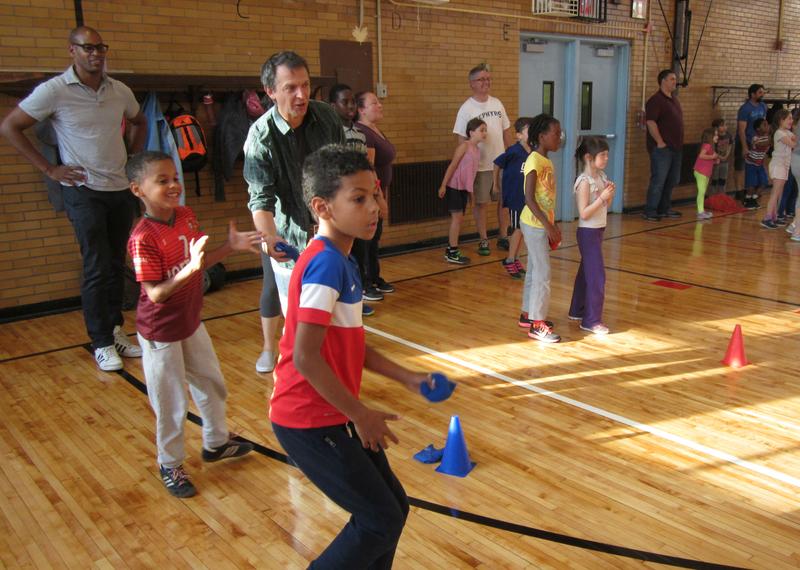 Family Sport Night at Community Roots School in Brooklyn. Photo: Beth Fertig
A Brooklyn charter school works at integrating students and parents, reports Beth Fertig on WNYC's SchoolBook.
Community Roots Charter School is 39 percent white, 33 percent black, 20 percent combined Hispanic and Asian, and 8 percent "other," much like its district.
To encourage socializing, the school "stays open late for regular get-togethers like family sports or arts nights, cooking classes for parents, teacher-arranged 'play dates' for kids who don't know each other well," writes Fertig.
More than 700 students applied for 50 kindergarten seats this year, but "only 25 percent of its students qualify for free lunch, far less than in the surrounding public schools." To create a socioeconomic mix, the school now requires that 40 percent of students must come from nearby housing projects.