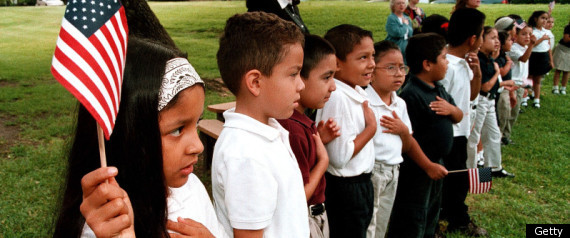 Eager to keep their children in mainstream classes, parents are lying on surveys designed to identify "English Learners," reports AP.
If anyone in the family speaks a language other than English, the child will be given an English proficiency test. Some four- and five-year-olds are too shy to speak to a strange interviewer, even if English is their only language. Only 9 percent of new kindergarteners pass.
Once classified as an English Learner, it's hard to shed the label. Some students remain ELs from kindergarten through high school.
LOS ANGELES (AP) — Nieves Garcia came from Mexico at age 6 and spent most of her elementary school years in California classified as an "English learner" even after she had picked up the language. Now a 32-year-old mother, she didn't want her daughter labeled the same way and subjected to additional testing.

And so she lied.

When Garcia signed up her daughter for kindergarten, she answered a standard four-question survey by saying her family spoke only English at home, even though her husband doesn't speak the language.

"I just said we spoke English, English, English and English," Garcia said.

Parents like Garcia fear that by acknowledging the truth, their kids will be siphoned off from native English speakers or stigmatized, and could miss out on learning opportunities.
In elementary school, English Learners typically are pulled out of mainstream classes for English as a Second Language instruction.
Parents fear their children will be placed in less-demanding courses in middle and high school if they're considered English Learners.
Earlier this year, Tesha Sengupta-Irving, an education professor in Orange County, registered her son for kindergarten. At the time, her parents were visiting and she was speaking to them in their native tongue, Bengali, so she wrote on her survey that the language was spoken at home.

Her son, who knew but a few words in Bengali, was tested and classified as an English learner. She said the results were ironic since she had tirelessly tried to pass the language on to him and still he spoke only English.
The survey "is catching too many kids," said the professor.