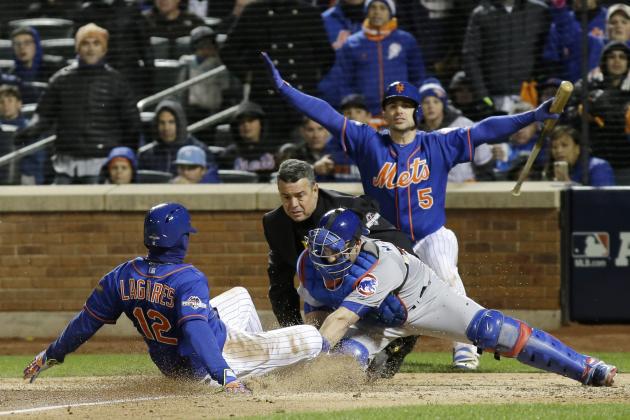 Juan Lagares scored twice in game 1 of the National League playoffs to help the Mets win. Photo: David J. Phillips, Associated Press
Edutopia links to baseball-themed activities for the World Series.
Statistics is a natural. The National Council of Teachers of Mathematics (NCTM) offers Baseball Statistics Lesson Plans for grades 6-8,  a baseball statistics lesson for grades 3-5 and a geometry lesson for students in grades 6-8.
There are baseball-linked lessons in other subjects too. The Negro League eMuseum features primary sources, including a timeline and history modules covering various Negro League teams, as well as lesson plans for teachers.
Other lessons include: Narrative, Argumentative, and Informative Writing About Baseball, Baseball Economics and The Physics of Baseball.
When I was in school, kids would sneak in transistor radios to follow the World Series, catching each other up during passing periods. Without weeks of playoffs first, the Series was more exciting.