Schools are failing our boys, writes Jennifer Fink, mother of four boys and creator of BuildingBoys.net, in the Washington Post. 
Her 8-year-old son struggles to sit still in the classroom, she writes. His teacher complains he's uncooperative.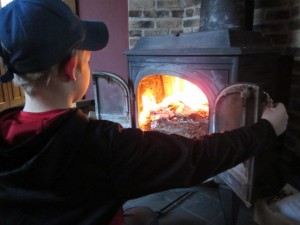 When the cold spell hit, his school kept students inside all week.
At home, he bundled up and spent hours "moving snow with the toy snowplow, creating 'snowmobile trails' in our yard with his sled and shoveling both our walk and our neighbors," writes Fink.
He got up early to play Minecraft before school starts. "He also cleaned the dirty glass on the woodstove, started the fire and brought wood into the house."
We're reading Laura Ingalls Wilder's The Long Winter, one of the books in the Little House series, aloud right now. Back then, boys (and girls) primarily learned by doing. Kids between the ages of 5 and 18 weren't corralled into schools and kept apart from real life; out of necessity, boys worked on the farms and girls helped in the house. Entire families worked together to survive, and along the way, boys and girls learned how to function in the real world.

That's the kind of learning my son craves.

Kids haven't changed much over the past 150 years; our society has. So while my son still needs movement, still craves real-world learning, physical labor and ways to contribute to his family and his world, he's expected to spend most of his time in a desk, in a classroom, with 20-some other kids his age.
In the 1800s, her son would have been a "model boy," she writes. "Today, more often than not, he's considered a troublemaker due to his failure (or inability?) to conform to the expectations of the modern educational system."
He's not the only one. Boys are doing worse than girls on every academic measure, she writes. They're much more likely to get in trouble, drop out, skip college and end up "lost" in their 20s.