With GED pass rates down by 85 percent, states are turning to alternative tests, reports Anya Kamenetz on NPR.
— In 2012, a total of 401,388 people passed the GED test.

— In 2013, people rushed to take the old test in its final year, creating a bump: A total of 540,535 people passed.

— How many earned a GED credential in 2014? In the general population: 58,524.
The new GED is aligned to Common Core standards, which measure college readiness. It's much harder — and more expensive — and must be taken on a computer.
"Teachers are telling us that the new test is virtually impossible for students to pass," says David Spring, who with his wife, Elizabeth Hanson, runs the website Restore GED Fairness.
The High School Equivalency Test, or HiSET, produced by ETS and the University of Iowa is now coming into use in 12 states, reports Kamenetz. McGraw-Hill's TASC has been approved in nine states.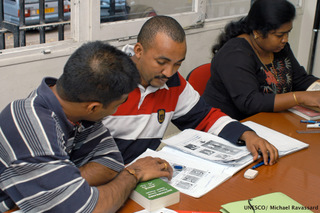 However, in 34 states, passing the GED is the only route to a high school equivalency credential.
Previously, GED aspirants could pass part of the test, then retake the sections they'd failed. Now they have to pass all of it at the same time or start over from scratch.
People may be scared off by the harder test, said Diane Renaud, who runs the St. Vincent and Sarah Fisher Center in Detroit. "The vast majority of the people taking the GED are not likely to be college-bound," she told the Detroit Free Press. "However, to get a job, where you're able to earn a minimum livable wage, you have to have a GED."
CT Turner, spokesman for the GED Testing Service, said there are few jobs for people with just a GED or high school diploma. Available jobs require additional job training or education, said Turner.