Taking advanced classes in high school does little to prepare students for college success, write Gregory Ferenstein and Brad Hershbein on Brookings' Chalkboard blog.
In 2009, a federal review found "low evidence" that increasing the rigor of college-prep courses and adding Advanced Placement options produce better college outcomes, they write.
Relationship between college grades (first course) and high school course-taking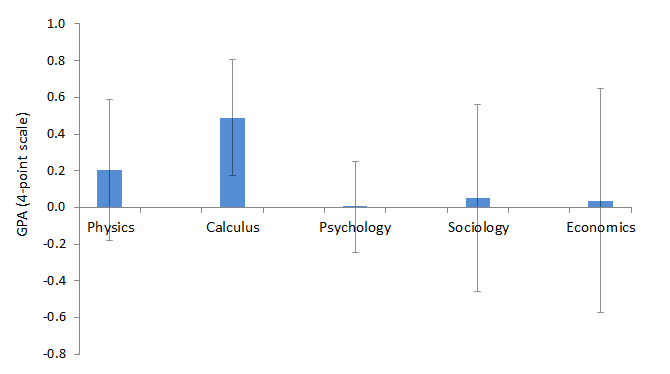 Their research looked at college grades for students who'd taken the same course in high school compared to those trying that subject for the first time. In physics, psychology, economics and sociology, the differences were "trivially small." 
However, students who'd taken calculus in high school did modestly better in college calculus.
It's likely high school students "often learn the wrong things, do not sufficiently focus on the critical thinking commonly needed in college, or simply forget much of what they learned," they speculate.
They suggest schools "experiment with innovative and experimental courses" such as "non-cognitive skill development and technical education."