"Straight Pride" posters proclaiming "nobody cares about what you want to have sex with" were removed from Youngstown State's campus by university officials, reports the Huffington Post.
"With the help of a bunch of students, we quickly went out to take them all down," (public information officer Ron) Cole said. "While we recognize the right to free speech, this is counter to our mission of being a diverse and accepting campus."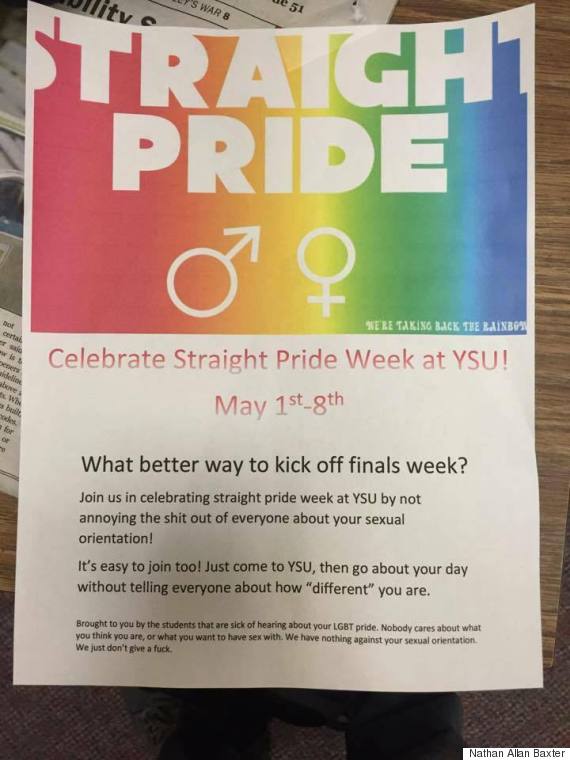 Tim Bortner, president of Youngstown's LGBT group, YSUnity, said gay students now "feel unsafe."
Some of the posters were pinned on top of YSUnity fliers advertising a May 9 rally for marriage equality, said Lisa Ronquillo, the group's vice president.
"It went way further than a free speech issue," said Student Government President Michael Slavens. "There were swear words and took it a little further than the average free speech should go."
Further than the average free speech should go.
The First Amendment protects anti-gay speech as well as pro-gay speech, writes Eugene Volokh, a UCLA law professor.
Speech is protected even when it runs "counter [to] the school's mission to create a diverse campus." Speech is protected even when it "miss[es] the point of minority activism." And speech is protected even when it contains vulgarities, as the famous "Fuck the Draft" jacket case, Cohen v. California, makes clear.
In a public forum, such as bulletin boards open to all, "the government cannot discriminate based on viewpoint in choosing what is posted," Volokh writes.
A policy to ban vulgarity — on a college campus? really? — would be OK, only if it was applied to all viewpoints. So would a policy saying posters can't be placed over existing posters.
This is so incredibly obvious. How could university officials not know this?