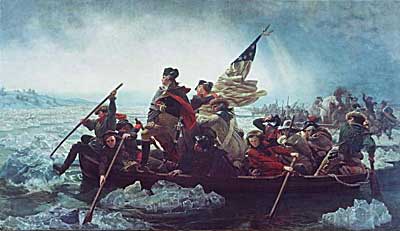 Washington Crossing the Delaware as painted by Emanuel Gottlieb Leutze.
College Board's new framework for Advanced Placement U.S. History "inculcates a consistently negative view of American history by highlighting oppressors and exploiters while ignoring the dreamers and innovators who built our country," charge conservatives.
Instead of striving to build a "City upon a Hill," as generations of students have been taught, the colonists are portrayed as bigots who developed "a rigid racial hierarchy" that was in turn derived from "a strong belief in British racial and cultural superiority." The Framework . . . omits the colonists' growing commitment to religious freedom and the emergence of a pluralistic society that lacked an entrenched aristocracy.

. . .  the Framework makes no mention of the sacrifices America's Greatest Generation made to rescue much of the world from a long night of Nazi and Japanese tyranny. Instead, the Framework focuses solely on the negative aspects of America's involvement in the war:  "the internment of Japanese Americans, challenges to civil liberties, debates over race and segregation, and the decision to drop the atomic bomb raised questions about American values."
Heroes such as Benjamin Franklin, James Madison, Dwight Eisenhower, Jackie Robinson, Jonas Salk, Neil Armstrong, and Dr. Martin Luther King, Jr. are not mentioned in the document, charge critics. But it has "space for Chief Little Turtle, the Students for a Democratic Society, and the Black Panthers."
In response to the criticism, the College Board released a practice exam — to everyone, not just certified AP teachers — and promised to "clarify" the framework.
"Our founders are resonant throughout" the exam, wrote College Board President David Coleman wrote. "Just like the previous framework, the new framework does not remove individuals or events that have been taught by AP teachers in prior years. Instead, it is just a framework, requiring teachers to populate it with content required by their local standards and priorities."
Questions ask students to interpret quotes by George Washington, Benjamin Franklin, Thomas Paine and Thomas Jefferson. Other questions deal with immigration, women's rights and urban poverty.
One question asks students to analyze an image:
a) Briefly explain the point of view expressed through the image about ONE of the following.
• Emancipation
• Citizenship
• Political participation
b) Briefly explain ONE outcome of the Civil War that led to the historical change depicted in the image.
c) Briefly explain ONE way in which the historical change you explained in part b was challenged in the period between 1866 and 1896.