Only 26 percent of 2014 graduates who took the ACT are prepared to succeed in college, according to ACT's college readiness report. Another 13 percent passed three out of four benchmarks in English, reading, math and science. Thirty-one percent didn't pass a single benchmark and 16 percent passed only one.
That's no worse than in previous years, despite the growing number of students taking the test.
Nationwide, 57 percent of the class of 2014 took the ACT. While 86 percent want to go to college, but some live in states that require all students to take a college admissions exam. Last year, only 69 percent of ACT test takers actually enrolled in college that fall.
A student who meets a benchmark has a 50 percent chance of earning a B or higher, or a 75 chance of a C or higher in first-year college courses, estimates ACT.
While 57 percent of Asian-Americans and 49 percent of whites met three or more benchmarks, that dropped to 23 percent for Latinos and 11 percent for  African-American test-takers.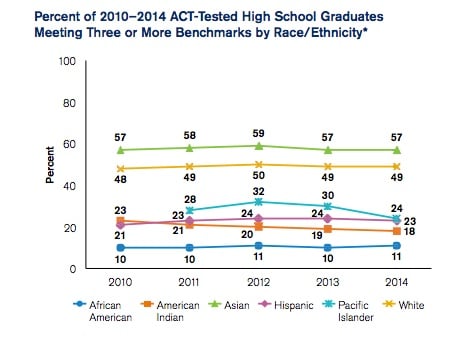 Overall, 64 percent of test takers tested as college-ready in English, 44 percent in reading, 43 percent in math and 37 percent in science.
Average composite scores ranged from 23.5 for Asians, 22.3 for whites, 18.8 for Latinos and 17 for blacks.
Massachusetts students had the highest composite score, 24.3 points. Hawaii ranked lowest, with an average of 18.2.