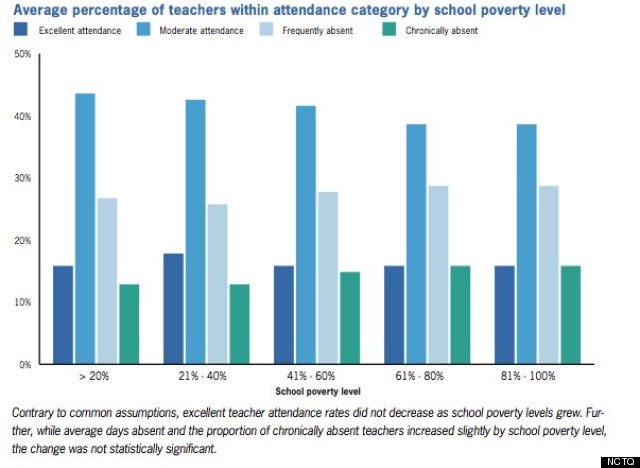 Teachers in the nation's 40 largest school districts came to school 94 percent of the time in the 2012-2013 school year, according to the report by the National Council on Teacher Quality. On average, the urban teachers missed about 11 school days out of 186 for all reasons, including professional development.
However, 16 percent of urban teachers were "chronically absent," meaning they missed 18 or more days per school year. Another 28 percent missed 11 to 17 days.
The study excluded long-term absences of 11 or more days "to ensure that any teacher who had to take extended leave for illness or family problem were not part of the sample."
Teachers were not more likely to be absent in high-poverty schools.
Indianapolis teachers missed the fewest days — six — while Cleveland teachers missed the most — 15.
Policies to suppress absenteeism, such as requiring a doctor's note, appeared to have no effect, said Kate Walsh, president of NCTQ. "We have learned that it is not so much district policy but expectations which lead to high attendance. Teachers who work in buildings that are led by principals with high standards are much less likely to be absent."