A Pittsburgh high school is "spreading the AP gospel" to average students, not just the high achievers, reports the New York Times. Brashear High, a school with "middling" performance, is collaborating with the National Math and Science Initiative, to get more students to take AP classes — and pass AP exams.
Brashear has offered A.P. classes in biology, chemistry, physics, computer science, calculus and statistics, but few among the school's 1,400 students excelled. Last year, of the 159 enrolled in those classes, nearly two-thirds did not even take the tests, which normally cost $89 each. (Because of subsidies by NMSI and the school, the fee this year is as low as $9.)

Just 10 students accounted for the 13 passing scores of 3 or higher. No Brashear student has passed the chemistry exam since 2010, or scored higher than 1 in statistics in the two years that course has been taught.
NMSI uses teacher training, student study sessions and cash incentives to raise test-taking and pass rates.
In the first year of NMSI's help, the number of passing scores on science and math A.P. exams jumps by an average of 85 percent, according to data from the College Board, which administers the A.P. tests. By the end of the three-year effort, the number has nearly tripled, on average.
Students get $100 for a passing score of 3 or better on the AP exam. The teacher also gets $100 — plus a $1,000 bonus for reaching a target number of passing scores.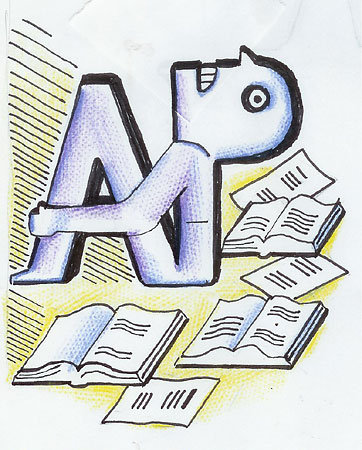 Many Brashear students are struggling in rigorous AP classes this year, reports the Times. However, Principal Kimberly Safran has turned down most requests to drop AP. "Parents are beginning to understand that the rigor of the course and having the tenacity to complete the course are important for success after high school," she said.
Advocates say students don't have to pass the AP exam to benefit from the challenge.
"We think 20 out of 40 passing physics is better than 10 out of 10," NMSI's Gregg Fleisher said. "What typically happens is our pass rate usually stays the same, but the kids that were in class that were passing at 30 percent, now they'll pass at 50 or 60 percent. And the kids who were never given an opportunity would pass at 20 or 30 percent."