Two Florida girls, ages 12 and 14, have been charged with aggravated stalking, a felony, for cyber-bullying a classmate.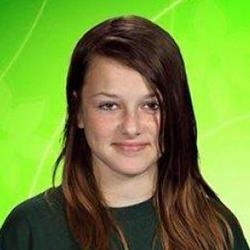 Rebecca Sedwick, 12, committed suicide in September.
"Witnesses said that the girls sent messages to Rebecca, calling her ugly, telling her to drink bleach and die, and saying Rebecca should kill herself," reports the Orlando Sentinel.
The "tipping point," Sheriff Grady Judd said, was when the 14-year-old wrote on a social media site,  "Yes ik [I know] I bullied Rebecca nd she killed her self but IDGAF [I don't give a fuck] ?"
The girl's parents deny she sent the message, claiming her Facebook site was hacked.
The girls "repeatedly and maliciously" harassed Rebecca while all three attended Crystal Lake Middle School in Lakeland, investigators said.

"Several students corroborated stories of both girls bullying Sedwick on different occasions, through name-calling, intimidation, threats to beat her up, and at least one actual physical fight," a Sheriff's Office report said.

Judd said neither family cooperated with investigators, so the girls were placed under arrest Monday and charged with the third-degree felony. The 12-year-old was released to her parents because she demonstrated remorse to the judge, but she can't go back to school.

The 14-year-old is in the custody of the Department of Juvenile Justice until her next hearing.
Slate's Emily Bazelon is the author of Sticks and Stones, wonders "why are we blaming two young teenagers instead of holding the adults around them—their parents!—responsible?"
Bazelon asked readers why kids write cruel taunts online like "Can u die please?" Caitlin Armtrong, the counselor at Unaka Elementary School in Elizabethton, Tenn., asked the question to 7th graders. Six of 22 said they'd been told they should die or kill themselves. They wrote:
"Its about popularity.  Sometimes, I think people do mean it.  They think it will make you feel like a loser if they tell you that you shouldn't be alive…and it does."

"People . . .  don't know that most kids don't let these things just roll off. They just aren't thinking."

"Kids are mean. It is a simple fact. I've been mean.  . . . No one is listening to us, they think we want attention. We don't. Nobody cares, so it keeps happening."

"Kids say to go kill yourself because they don't really know you. And if they don't know you, they really just don't care what happens to you."

"Some kids are just full of hate."

"It makes them look cool. It is the meanest thing you can say, so they say it. The meaner you are, the cooler you look."
"Honest conversations with kids" is "the first step to make suicide baiting online unacceptable," writes Bazelon.
Bullies are narcissists with contempt for their victims, writes Paul Coughlin.