Doug Lemov's new book, Practice Perfect,gives teachers (and others) "42 rules for getting better at getting better."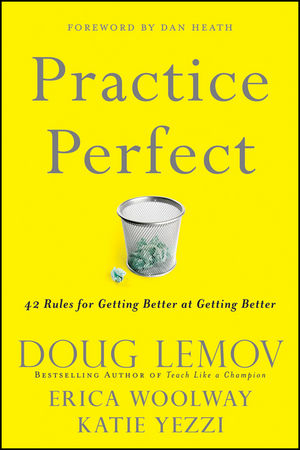 In an Amazon interview, Lemov and co-authors Erica Woolway, and Katie Yezzi, call for practicing strengths, instead of focusing on weaknesses. It's a myth that practice should stop when you achieve competence, they say.
What marks champions is their excellence at something—they may have weaknesses, but their strengths are honed and polished to the level of brilliance. The value of practice begins at mastery!
Practice has a reputation for being dull, but its "fun, exciting, and ideal for adults," they believe.
"Educrats have long warned of the perils of rote and repetition," writes Kathleen Porter-Magee in an Education Gadfly review. "But they're wrong."
Lemov's Teach Like a Champion, "based on thousands of hours spent observing outstanding teachers in action" argued that "great teaching requires the mastery of seemingly mundane but crucially important knowledge and skills," Porter-Magee writes.
Practice Perfect's 42 rules "are simple, practical, and grounded in common sense, as well as respect for the practice and repetition that we need to help teachers (and students) achieve mastery."
They also present a damning critique of the multi-billion dollar teacher professional-development industry. By shying away from skill repetition, most PD programs offer the equivalent of art-appreciation courses and then ask teachers to paint masterpieces.
Teachers need to hone their skills with one another — with coaching and feedback—before they try new skills in the classroom.