Ads attacking childhood obesity look a lot like ads attacking obese children. Children's Healthcare of Atlanta is running TV commercials and billboards with overweight children to make Georgians worry more about the problem, reports the Atlanta Journal-Constitution.
The state ranks second in the nation for childhood obesity: Forty percent of children are overweight or obese. But half of adults don't see it as a major health issue and 75 percent of parents with overweight or obese children don't think their kids need to slim down.
Some public health experts, however, say the approach could be counterproductive when it comes to childhood obesity. The commercials and billboards do not give families the tools they need to attack the problem, some critics say. Others say the images will simply further stigmatize obesity and make it even less likely for parents and children to acknowledge that their weight is unhealthy and should be addressed.
"We know from communication research that when we highlight a health risk but fail to provide actionable steps people can take to prevent it, the response is often either denial or some other dysfunctional behavior," said Karen Hilyard, a University of Georgia health communication researcher.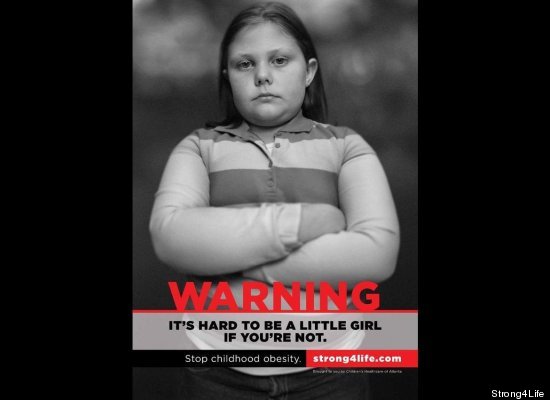 The President's Fitness Award will be given to any child who can eat without sweating, reports The Onion.
Finally conceding it is unrealistic to expect today's children to complete a pull-up, run a mile, or touch their toes, the President's Council on Fitness, Sports, and Nutrition announced the new standard.  "We want our kids to set more pragmatic, real-world goals for themselves, and being able to run back and forth across a basketball court one time is no longer realistic,"  said Shellie Pfohl, executive director of the council.
It's satire, but uncomfortably close to reality.