The three-year bachelor's degree isn't catching on, despite soaring college costs and high school graduates with lots of AP credits, reports  the Washington Post.
"A lot of students are interested in it," said Dave McFadden, executive vice president of Manchester College. "A smaller number of students sign up for it, and an even smaller number finish it."
Completing in three requires students to pick a major immediately, pass up irrelevant electives, extracurriculars and junior year abroad and study when others are partying. Students say they'd rather enjoy the college experience then get into the job market a year early with less debt, the Post reports.
Motivated students with lots of AP credits can complete a bachelor's degree in three years without signing up for a special program. They just do it. Some stay for four years and add a master's degree. But these are excellent students who know exactly where they're going.
CNN Money charts the growth in tuition vs. income. Four (or five or six) years of college is a luxury item. Costs are much higher for those who don't live at home.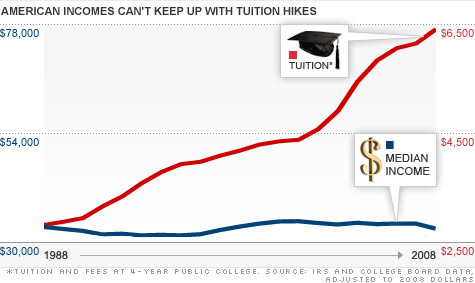 As portrayed on the left axis, median income has hovered around $33,000 since 1988. Meanwhile, college tuition and fees — portrayed on the right axis — have more than doubled.